[fusion_builder_container hundred_percent="no" hundred_percent_height="no" hundred_percent_height_scroll="no" hundred_percent_height_center_content="yes" equal_height_columns="no" menu_anchor="" hide_on_mobile="small-visibility,medium-visibility,large-visibility" class="" id="" background_color="" background_image="" background_position="center center" background_repeat="no-repeat" fade="no" background_parallax="none" enable_mobile="no" parallax_speed="0.3″ video_mp4="" video_webm="" video_ogv="" video_url="" video_aspect_ratio="16:9″ video_loop="yes" video_mute="yes" video_preview_image="" border_size="" border_color="" border_style="solid" margin_top="" margin_bottom="" padding_top="" padding_right="" padding_bottom="" padding_left=""][fusion_builder_row][fusion_builder_column type="1_1″ layout="1_1″ spacing="" center_content="no" link="" target="_self" min_height="" hide_on_mobile="small-visibility,medium-visibility,large-visibility" class="" id="" background_color="" background_image="" background_position="left top" background_repeat="no-repeat" hover_type="none" border_size="0″ border_color="" border_style="solid" border_position="all" padding_top="" padding_right="" padding_bottom="" padding_left="" dimension_margin="" animation_type="" animation_direction="left" animation_speed="0.3″ animation_offset="" last="no"][fusion_text columns="" column_min_width="" column_spacing="" rule_style="default" rule_size="" rule_color="" class="" id=""]
The Ugandan Capital Markets Authority (CMA) has announced the Chartered Institute for Securities & Investment (CISI) as one of its key partners in ensuring its practitioners are qualified to global best practice standards.
The CMA, which is the regulator for the Ugandan capital markets sector, launched the "certification and competency" announcement to the market at the Sheraton Hotel, Kampala where an MoU was signed between the CMA and the CISI, the global not-for-profit professional body with 45,000 members.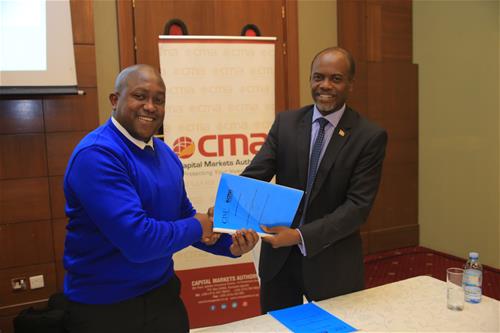 The initiative is aimed at CMA licensed representatives including dealers/traders, executive directors, analysts and compliance officers.
If practitioners wish to continue to practice in the Ugandan market they are now required to study for and successfully complete the Uganda Capital Markets Programme.
Practitioners have 18 months from the CMA launch to complete the programme and exam sittings are available now for booking. Details can be obtained from cisi.org/ucm or [email protected]
It is estimated that the whole programme requires a total of 200 hours of study. The CISI is working with local training partners providing formal training. Partners include, Abacus Business School, ExamReady, Uganda Institute of Banking and Financial Services and Africa Risk Institute. Candidates also have the option of self-study whereby candidates are provided with a pdf version of the workbook and are given access to CISI's e learning portal upon registering for the exam.
All candidates registering for an exam will receive 12 months of free CISI student membership. Over 1,500 CISI exams have been sat in East Africa this year and other countries who have run similar certification initiatives to Uganda include Kenya Rwanda and Tanzania.
Helena Green, Assistant Director and CISI Head of New and Emerging Markets said: "We are delighted to be partnering with CMA Uganda on this important project. This excellent initiative is ultimately aimed at promoting confidence and building honesty and transparency in the market. Ensuring practitioners are competent and qualified to a high standard is a critical element in building trust and integrity for all stakeholders."
Keith Kalyegira, CEO, Capital Markets Authority said: "Enhancing the quality of intermediation in Uganda's capital markets is critical to the successful implementation of Uganda's transformative Capital Markets Development Master Plan. The introduction of the market certification programme developed in collaboration with the CISI will enhance professionalism in Uganda's capital market. The knowledge, skills and ethics learned in the market certification courses will ensure that investors and issuers in Uganda's capital markets continue to receive excellent quality of service from market intermediaries."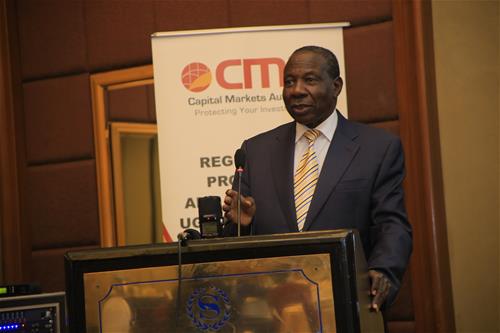 Attending the launch of the certification programme was also Hon. Minister Mr. Matia Kasaija Minister of Finance. During his remarks Hon. Kasaija emphasised the need to spread financial literacy among Ugandans to further financial inclusion to raise awareness and increase the understanding of financial products. Hon. Kasaija further congratulated the collaboration between the CISI and the CMA with hope that the certification programme will enforce knowledge and professionalism in the financial services sector.
Those requiring further information on CISI's work in East Africa should contact Kimacia Gitau at [email protected] or +254 716 777 999.
[/fusion_text][/fusion_builder_column][/fusion_builder_row][/fusion_builder_container]