CISI leads with global "competitive edge" campaign
CISI leads with global "competitive edge" campaign
[fusion_builder_container hundred_percent="no" hundred_percent_height="no" hundred_percent_height_scroll="no" hundred_percent_height_center_content="yes" equal_height_columns="no" menu_anchor="" hide_on_mobile="small-visibility,medium-visibility,large-visibility" class="" id="" background_color="" background_image="" background_position="center center" background_repeat="no-repeat" fade="no" background_parallax="none" enable_mobile="no" parallax_speed="0.3″ video_mp4="" video_webm="" video_ogv="" video_url="" video_aspect_ratio="16:9″ video_loop="yes" video_mute="yes" video_preview_image="" border_size="" border_color="" border_style="solid" margin_top="" margin_bottom="" padding_top="" padding_right="" padding_bottom="" padding_left=""][fusion_builder_row][fusion_builder_column type="1_1″ layout="1_1″ spacing="" center_content="no" link="" target="_self" min_height="" hide_on_mobile="small-visibility,medium-visibility,large-visibility" class="" id="" background_color="" background_image="" background_position="left top" background_repeat="no-repeat" hover_type="none" border_size="0″ border_color="" border_style="solid" border_position="all" padding_top="" padding_right="" padding_bottom="" padding_left="" dimension_margin="" animation_type="" animation_direction="left" animation_speed="0.3″ animation_offset="" last="no"][fusion_text columns="" column_min_width="" column_spacing="" rule_style="default" rule_size="" rule_color="" class="" id=""]
The Chartered Institute for Securities & Investment (CISI) has launched its first ever global brand marketing campaign, with the aim of raising awareness of the CISI brand, membership and qualifications internationally.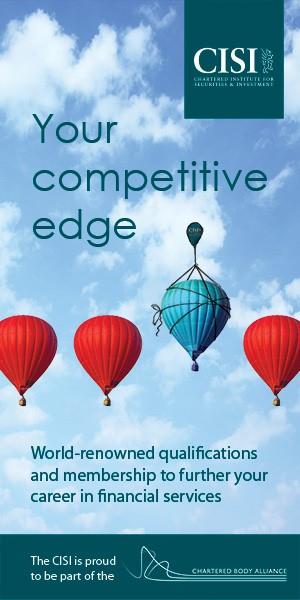 The CISI is the global professional body for securities, investment, wealth and financial planning professionals and was formed in 1992 from the London Stock Exchange. Today its global community stands at circa 45,000 members in 104 countries, with over 40,000 CISI exams sat in 80 countries.
The professional body marked its 25th anniversary last year and its Educational Trust runs regular scholarship programmes to recognise high achieving undergraduate and postgraduate students, which was extended internationally in 2017.
With formal links with regulators in 46 countries, those who study for CISI exams work in 20 of Europe's top 20 investment banks, 20 of Europe's top 20 custodian banks and 20 of Britain's top 20 wealth management firms.
Featuring the strap line "Your competitive edge", the CISI advertising campaign focuses an array of colourful concepts involving paper boats, hot-air balloons and fish. The artwork was produced by the CISI's marketing team with support from design agency W3 based in Kelvedon, Essex.
Helen Anderson, CISI Assistant Director Marcomms said: "We are very excited to announce our first global awareness campaign. We have digital screen posters in tube stations and advertising screens around the UK including central London. Social media advertising and programmatic digital advertising appears in editions of the Financial Times, Bloomberg, The Daily Telegraph, The Times, The Sunday Times, Reuters, Metro, The London Evening Standard and The Guardian.
"Over the next few months we are rolling out the artwork globally in cities in Ireland, Cyprus, Africa, India, Sri Lanka, Singapore, Philippines, Spain, UAE and the Middle East.
"With regulatory links in 46 countries, many candidates looking to qualify in financial services are aware of the CISI commitment to knowledge, skills and behaviour throughout a professional's career journey. This campaign, a unique and visionary proposition from a not-for-profit membership body, is dedicated to reinforcing the unrivalled support we provide to help professionals remain at the top of their game and to attain and maintain their competitive edge which is so important for the fast-moving world of financial services."
[/fusion_text][/fusion_builder_column][/fusion_builder_row][/fusion_builder_container]